Ten years ago, the Royal Society of Chemistry launched an annual special collection to showcase research carried out by internationally recognised, up-and-coming scientists in the early stages of their independent careers, who were making outstanding contributions to their respective fields.
The articles of the themed collections were published on CHEMCOMM journal of the Royal Society. One of the emerging investigators was ISOF researcher Vincenzo Palermo, who published a feature article entitled "Not a molecule, not a polymer, not a substrate. . . the many faces of graphene as a chemical platform"
To celebrate the 10th anniversary of the "Emerging Investigators" initiative, RSC has now published a special issue collection featuring new work from contributors to the early Emerging Investigator collections, with the aim of showing the evolution of the research activities of the contributors of the initial collection.
The article from V. Palermo included in this 10th anniversary edition is titled "Surface chemistry and structure manipulation of graphene-related materials to address the challenges of electrochemical energy storage", written in collaboration with researchers from Chalmers University of Technology and Uppsala University in Sweden, Huaibei University in China, and IMDEA in Spain.
This feature article provides a comprehensive overview of the strategies developed to create graphene-based composite electrodes with better ionic conductivity, electron mobility, specific surface area, mechanical properties, and device performance than state-of-the-art electrodes. Its specific focus is tackling the existing challenges in electrodes for batteries and supercapacitors by exploiting the unique properties of graphene-related materials.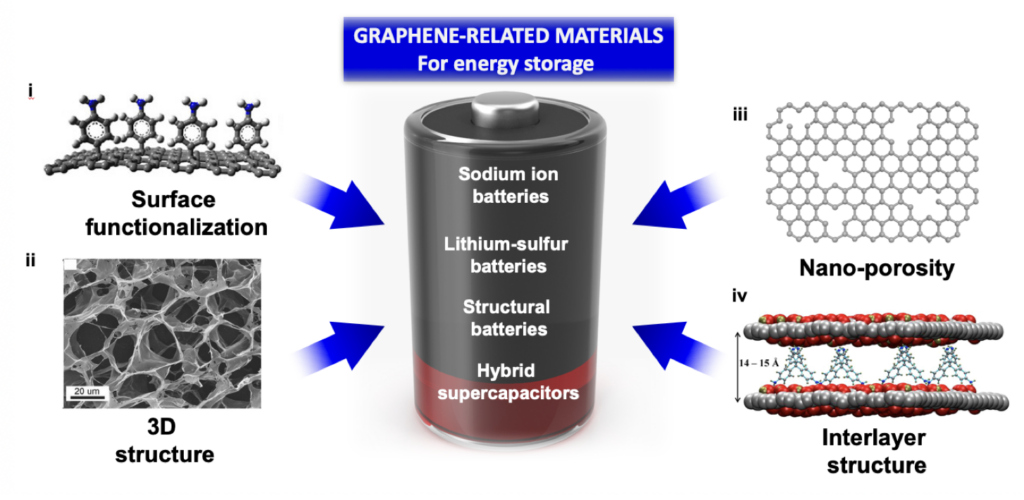 ---
Original article of 2013:
Not a molecule, not a polymer, not a substrate. . . the many faces of graphene as a chemical platform
V. Palermo
---
New feature article of 2023:
Surface chemistry and structure manipulation of graphene-related materials to address the challenges of electrochemical energy storage
Yue Sun, Jinhua Sun, Jaime S. Sanchez, Zhenyuan Xia, Linhong Xiao, Ruiqi Chen and Vincenzo Palermo