Perfluoroalkyl substances (PFAS) are a family of persistent compounds used in industrial processes and everyday products, including pharmaceuticals, adhesives, insecticides and fire retardants. PFAS have been found in groundwater, surface water and even drinking water around the world. Italy hosts the third most important case in terms of extension of the polluted land, an area extending for almost 200 square kilometers between  Padua, Verona and Vicenza in the Veneto Region, Northern Italy.  Conventional purification technologies are partially ineffective in the removal of these substances from water and nanotechnology is expected to play a key role to tackle this emerging problem. 
CNR researchers partnered with Medica S.p.A. (www.medica.it) and HERA group (www.hera.it), to develop a new two-step procedure for water purification based on adsorption of contaminants by graphene oxide (GO) nanosheets, and subsequent removal of saturated GO by microfiltration. The nanosheets can capture the contaminants thanks to their 2-dimensional structure, then flocculate creating large aggregates, easily captured by standard filters, finally delivering clean water. The method was  applied for the treatment of real water samples from a potabilization plant, where a mixture of fourteen PFAS was added.
This procedure showed an efficiency up to 5 times higher than activated carbon, the current technology used for PFAS removal in potabilization plants.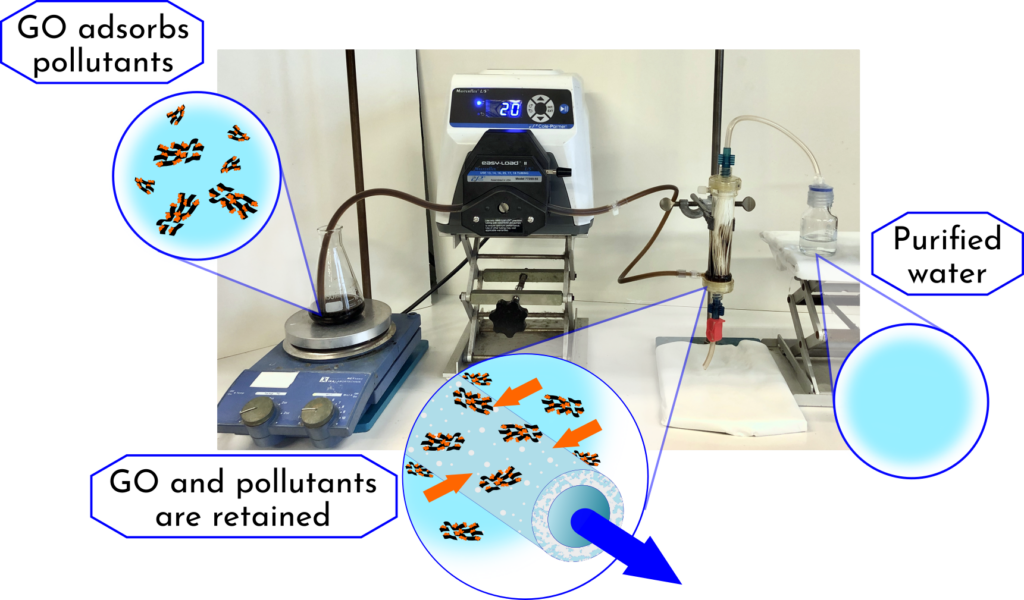 Quotes from the authors of the work:
How can Hera Group guarantee day by day the water quality for consumers?

Management experience combined with innovation and research to remove emerging pollutants, thanks to excellent collaborations such as CNR and Medica Group.

Maurizia Brunetti, Technology and Business Development Manager,
Water Department, Hera Spa
Ready for new challenges at Medica Group, thanks to CNR and HERA Group cooperation. We're getting day by day more concerned about water scarcity, water quality and purification.

Letizia Bocchi, board member, R&D, Medica SpA
We need urgent action to preserve our resources, and graphene has shown excellent potential in water purification at lab scale. We are taking graphene step-by-step from a beaker to a filter, and from a filter to a potabilization plant.'

Manuela Melucci, CNR-ISOF Researcher
'New problems require new solutions, and nanotechnology can be the solution to capture selectively the elusive PFAS pollutants.'

Vincenzo Palermo, Director of ISOF
---
Link to full article:
Graphene oxide nanosheets for drinking water purification by tandem adsorption and microfiltration
S. Khaliha, A. Bianchi, A. Kovtun, F. Tunioli, A. Boschi, M. Zambianchi, D. Paci, L, Bocchi, S. Valsecchi, S. Polesello, A. Liscio, M. Bergamini, M. Brunetti, M. L. Navacchia, V. Palermo, M. Melucci
https://doi.org/10.1016/j.seppur.2022.121826
The research was carried out in the framework of the spearhead project of the Graphene Flagship 'GRAPHIL', and FLAG-ERA III project 'GO-FOR-WATER' and of industrial research contract with HERA 'graphene materials for drinking water treatment'. 
The research work involved three different institutes of CNR, namely the Institute for Organic Synthesis and Photoreactivity (ISOF), the Water Research Institute (IRSA) and the institute for Microelectronics and Microsystems (IMM).