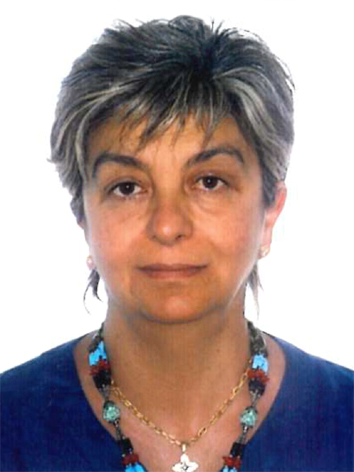 Senior Researcher
e-mail: caterina.cinti @isof.cnr.it
Office telephone: +39 051 639 8303
Building: Isof 12 – Floor: 1
Office number: 308
Born the 05 April 1961 in Civitanova Marche, Italy, Dr. Cinti earned her Biological Science degree from University of Bologna in 1984. She is board certificated in Genetic (1984-1987), and has obtained a post-doctoral NATO Senior Fellowship in Biotechnology and Molecular Biology, at the Kimmel Cancer Institute, Thomas Jefferson University, Philadelphia, USA (1993-1994).
She is scientist senior researcher of National Research Council (CNR) of Italy from 1994 and was a member of S.H.O. team at the Jefferson Medical College, Thomas Jefferson University of Philadelphia, PA, USA from 1994 to 2002.
Dr. Cinti has extensive experience in teaching and training young people. She was Adjunct Associate Professor at the College of Science and Biotechnology of Temple University, Philadelphia, PA, USA from 2002 to 2005. She was tutor of several doctoral and undergraduate students and supervisor of Master's and PhD thesis from 1997 to 2018.
From 2006 to 2018 she was Director of the CNR Operative Unit of Institute of Clinical Physiology (IFC), Department of Biomedicine, in Siena.
At the end of 2018 Dr. Cinti has moved at the Institute of Organic Synthesis and Photoreactivity (ISOF) in Bologna belongs to the Department of Chemical Sciences and Materials Technologies (DSCTM) of the National Research Council of Italy (CNR).
Her research activities focus on the field of biomedical research, and in particular on the development of novel therapeutic (pharmacological and biological) solutions as well as drug delivery systems with the aim to design and set up, at pre-clinical level, personalized therapeutic strategies for pathologies with high social impact, such as cancer and cardiovascular diseases. Basic research interests concern the study of biologic and molecular mechanisms regulating the function of genes at the physiological and pathophysiological level.
Her research was funded by several national (MIUR, Italian Health Ministry, AIRC, Regione Toscana, Regione Sardegna, etc..) and international (NIH) granting agencies.
From 1993 to 2005 Dr. Cinti spend half of her working time in USA at the Medical School of Thomas Jefferson University and Temple University of Philadelphia coordinating, as PI of NIH-R1 and NHI-R21 grants, researchers with different background and expertise (bioinformatics, engineers, molecular biologists, pharmacologists, and medical doctors).
Dr. Cinti is a member of the Executive Committee of Foresight CNR project and coordinator of Foresight Working Group-Health from 2013 to present (http://www.foresight.cnr.it/). She is also a member of Executive Committee of International Consortium for Personalized Medicine (ICPerMed) from 2016 to the present (https://www.icpermed.eu/).
Dr. Cinti is expert evaluator of scientific projects of:
– the European Commission (FP4-FP7, Horizon 2020, Horizon Europe programmes) from 2001 to present;
– Italian Ministero Università e Ricerca (MIUR) from 2001 to present;
– Italian Ministero dello Sviluppo Economico (MISE) from 2014 to present;
– Italian Sardegna Ricerche, Regione Sardegna from 2008 to 2012;
– National Programme of Cooperative Research from the Spanish Ministry of Health and Consumer's Affairs, Madrid in 2006;
– Cancer TMOI of the French National Alliance for Life and Health Sciences (AVIESAN) jointly with the French National Cancer Institute (INCa) in 2012.
More than 90 peer-reviewed scientific papers have been authored by Dr. Cinti, along with several books, and she has been an invited speaker at more than 60 scientific meetings in Italy and abroad. She is also inventor of three International Patents. Her citation H-index is 33.
Dr. Cinti serves on the Editorial Boards of Plos One, International Journal of Molecular Science, International Journal of Translational Medicine and The Women's Oncology Review and she is Scientific Adviser Board of many peer-review journals (e.i., Journal Cellular Physiology, Cancer Research, Plos One, Plos Medicine, Cell Death & Differentiation, Radiation Research, Journal of Biological Physics, Saudi Medical Journal, Current Signal Trasduction Therapy, Medical Science Monitor Journal, ecc..)
LIST OF PUBLICATIONS ON:
ORCID: https://orcid.org/0000-0001-8049-0369
PubMed, National Library of Medicine: https://pubmed.ncbi.nlm.nih.gov/
ResearchGate: https://www.researchgate.net/profile/Caterina-Cinti
Google Scholar: https://scholar.google.com/citations?user=iQUo5xcAAAAJ
PATENTS
Inventor: Caterina Cinti, Dario La Sala; Title: "Test for detection of hot spot mutations and methylation of retinoblastoma-like 2 gene (RBL2) as diagnostic and prognostic markers of tumors", N. WO 2007/137597A1
Inventor: Settimio Grimaldi, Antonella Lisi, Caterina Cinti; Title: "Erythro-magneto-virosomes as bioactive drug carriers". Provisional USA filed on21 Dic. 2008
Inventor: Caterina Cinti, Antonella Lisi, Settimio Grimaldi; Title: "Erythrocyte-based delivery system, method of preparation and uses thereof ", N. WO2010/070620.