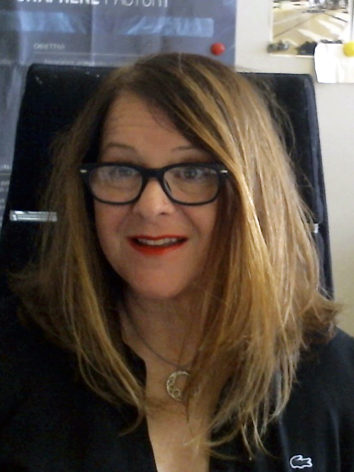 Management Tech.
e-mail:  roberta.chiodini @isof.cnr.it
Office telephone: +39 051 639 9845
Building: Isof 4 – Floor: 2
Office number: 424
Chiodini Roberta (b. 1969). She got her Master in English Language in 1994, from University of Cambridge, UK. To date she is enrolled in the three year degree course in International Development and Cooperation, Law Faculty at Bologna University.
Project Manager and Executive Assistant of ISOF Institute of the National Research Council of Italy. She supports the management, using a variety of project management, communication & organizational skills. She has ability to make decisions that affect the Institute and performs similar responsibilities as an administrative assistant, involving research, communications, correspondence, and office management using technical and foreign languages.
She has well-developed communication and reading skills and knowledge of grammar, spelling in three different languages: English, Spanish and French.
She organizes activities and national and international meetings, carries out administrative duties dealing with financial management. She is able to interact extensively with the general public and any other person that the executive is responsible to interact with.
She has organization and flexibility skills, along with the abilities to multi-task, meet deadlines and work as part of a team. She is highly accountable and often responsible for safeguarding confidential information.
She may have access to information about compensation plans, upcoming layoffs, internal investigations based on employee complaints, Institutional secrets and other confidential information. She is in a position of being privy to information that must be protected.
She has familiarity with computers and common business application such as Microsoft and Apple softwares, as well as Linux ones.
Her responsibilities typically include a combination of administrative and managerial functions. These responsibilities may involve overseeing the work of clerical and other administrative employees, as well as making sure that everything is in place for the office to function smoothly. Tasks may range from keeping up with office supply inventory to negotiating leases and purchasing agreements to approving vacation requests for clerical employees.
She co-ordinate project-based work, review operating practices and implement improvements where necessary and supervise, coach and train other level' staff.
She researches data, meets or liaisons with individuals and groups inside or outside of the Institute on behalf of the executive, and has a role in establishing and coordinating the implementation of Institute' administrative policies. Her duties include management and planning, public relations, marketing, project management, and more.
She is responsible for scheduling. This may include setting up travel, meetings, speaking engagements and other appointments for the executives they are assigned to work with.
She often manages the flow of information to members of the executive leadership team and is often involved in preparing and formatting information for internal and external distribution. This may include writing letters and memos, compiling data for reports, creating computerized presentations, writing reports, proofreading and other information preparation duties.
She is often involved in data analysis, using a combination of computer and critical thinking skills. For example, while top-level executives are accountable for ensuring that the Instituteis meeting its overall financial goals, in many cases she carefully analyzes financial data and creates reports that identify areas of concern the executive may need to focus on.
Her Project Manager activity consists in 3 dimensions: technical, transactional, transformational.
During the Feasibility Study, she spends proportionately more time in the Technical and Transformational dimensions. 'Technical', when developing and challenging the scope of the project and evaluating options. Transformational when communicating the objectives and benefits expected of the project as well as the vision of what success will look like. During the Implementation stage, her activity is increasingly concerned with the successful delivering of the project as defined, and operates more proportionately in the Transactional dimension, ensuring that the project performance is maintained at the levels required to achieve success. Transformational management skills are employed as the team gets larger, to keep communicating the vision, to motivate, encourage and guide team members to perform whilst outside of their comfort zones. During the Close Out stage time gets more proportionately spent back in the Technical dimension, as well as the Transactional dimension. Technical details need closing out in order to complete the project Transactional control is needed to ensure the last project activities are being completed properly .
She has been appointed as Referee for the ISOF Institute for the International Relations for the European and Extra-European Areas.
Member of the Editorial staff of the "Graphene Factory" website : http://grafene.cnr.it
To date she is and she has been the Project Manager of the following CNR ISOF EU Projects:
– EU Project "GRAPHENE Core 1" – n.696656 -FETFLAGSHIP H2020-Adhoc-2014-20 SGA-RIA -Project starting from April 1st, 2016.
– EU PROJECT "GRAPHENE FPA" n. 649953 FET Flagships – tackling grand interdisciplinary science and technology challenges – H2020-FETFLAG-2014- 69 months project starting from April 1st, 2016.
– EU PROJECT "iSwitch" MSCA-ITN-2014-ETN-H2020 n. 642196 "Integrated self-assempled SWITCHable systems and materials: towards responsive organic electronics – a multi-site innovative training action" – 48 months project starting from January 1st 2015.
– EU Project "GRAPHENE Flagship – Graphene-Based Revolutions in ICT And Beyond ", ammesso a finanziamento dalla Commissione Europea di cui alla Call FP7-ICT-2013-FET-F Grant Agreement nr. 604391 – The 30 months ICT-FET Project started on October 1st, 2013 .
– EU PROJECT "UPGRADE" bottom-UP blueprinting GRAphene baseD Electronics – is a medium-scale focused research project (STREP) funded by the European Community's Seventh Framework Programme FP7-ICT-2011-C Young Explorers. The 3-year collaborative project started on the 1st February 2013 .
– EU PROJECT "HESPERUS" Hierarchical self-assembly of electroactive supramolecular systems on pRe-patterned surfaces: multifunctional architectures for organic FETs Grant Agreement Number 219770 PIEF-GA-2008- from April 8th, 2008 .
– EU PROJECT on Information and Communication Technologies Coordination and Support Action "GRAPHENE-CA Coordination Action for Graphene-Driven Revolutions in ICT and Beyond" Grant Agreement Number 284558 – from May 1st, 2011 to April 30th, 2012.
– EUROCORES Programme European Science Foundation: "Graphene Organic SuPramolEcular functional" "GOSPEL" – from 20/05/2010 to 30/9/2013
To date Grant Manager of the following CNR-ISOF Projects:
– 2013-2018 Contract between European Central Bank – ISOF-CNR named "COCOON"
– 2016-2019 AIRC – IG 16740 "Albumin-based multimodal cancer therapy: a light triggered implemented approach" – Associazione Italiana per la Ricerca sul Cancro
– 2014-2018 – Proof of concept studies of SIRT6 inhibitors for treating type II diabetes – IRCCS – Az. Osp. San Martino
– 2013-2016 Prog. Bandiera "La Fabbrica del Futuro – SILK IT".
Bologna, September 7th, 2015