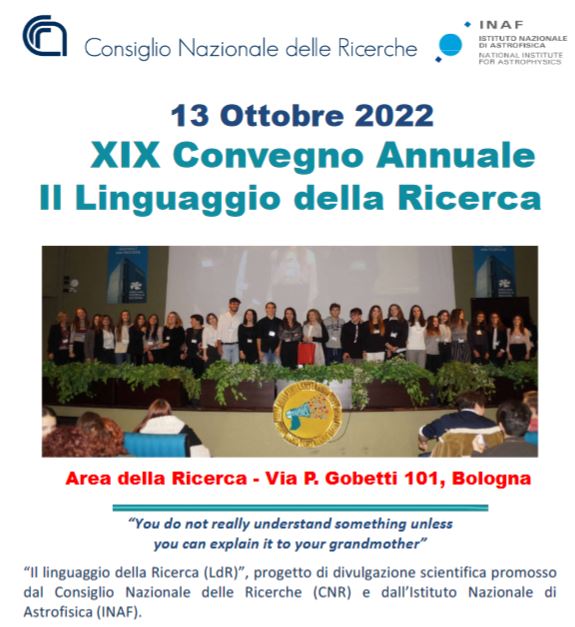 ISOF Researchers, together with Experts from other CNR Institutes and the colleagues from INAF, will be involved on October 13-14 in the XIX Annual Conference dedicated to the "Linguaggio della Ricerca" (LdR) that will take place in the Research Area of Bologna. More than 800 middle- and high-schools students of Bologna and others Emilia Romagna's cities, as well as from Genoa, Florence and Palermo will participate to the two LdR days.
LdR was launched in ISOF in 2013, and since then it aims to promote Science, Communication and Technology and to improve the quality of School and Knowledge. In 2019, thanks to funding from the Italian Ministry of Research, LdR became a National project. It currently involves a network of 25 Institutes of CNR located in ten Italian regions. The project, currently coordinated by ISOF researcher Armida Torreggiani, relies on the volunteering support of many scientists. Thanks to their enthusiastic work, the participation of schools and students to LdR has grown year after year.
CNR scientists become scientific communicators of chemistry, physics, biology, materials, nanotechnologies, and have inspired in the past years more than 4000 students to realize communication products focused on the lessons presented by researchers in their classes.
The best products are selected and awarded during the final annual Conference.
Follow the streaming live Conference at the following Links:
https://www.youtube.com/watch?v=e4F9hg8pYEA (13 Ocotber LdR)
https://www.youtube.com/watch?v=ppvkURxw-nl (14 October LdR Junior).
Videos from previous editions: